Impressions of the Paul-Gerhardt-Church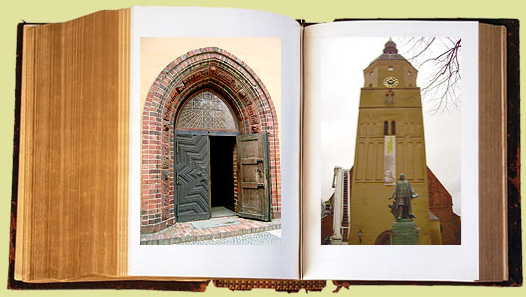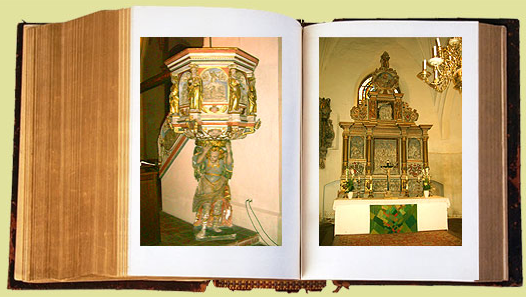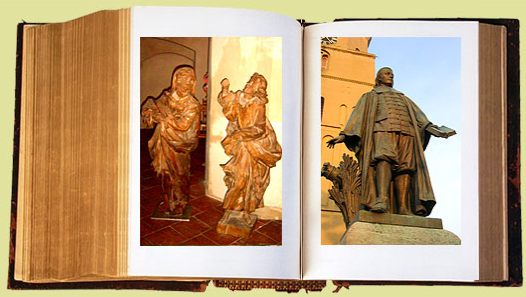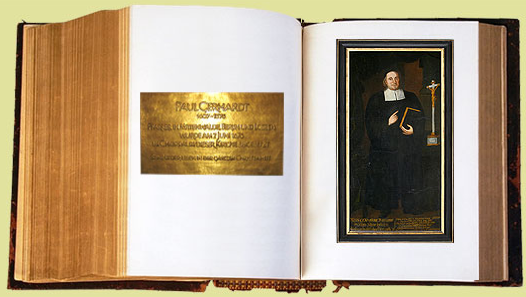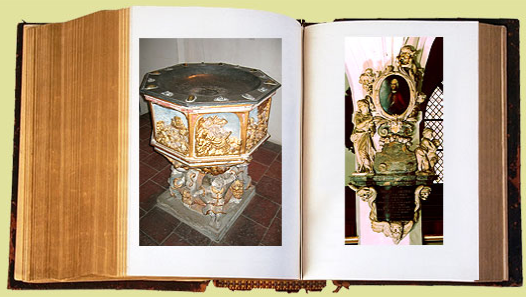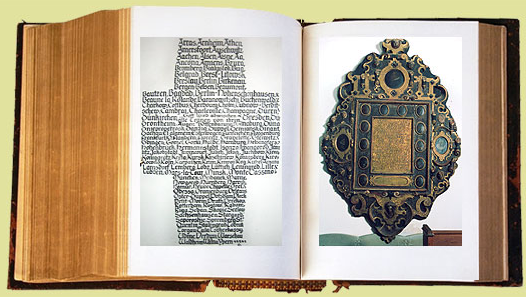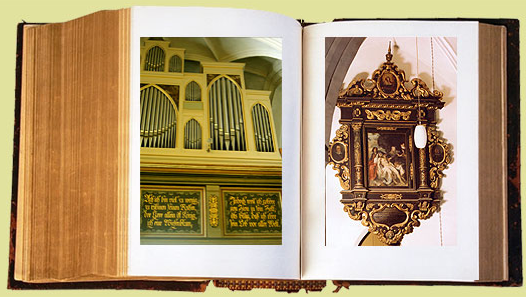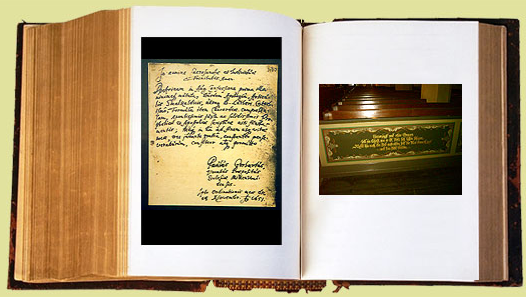 Three-aisle late-Gothic brick hall church
1494 rebuilt after a fire on the foundation walls of the former church
1666 annexes of the sanctuary
Originally consecrated to the sacred St. Nikolai.
After the restoration in 1930 renamed in "Paul-Gerhardt church"
Altar, pulpit and font created by Samuel Hanauer from Strehla in Saxony, erected 1609/1610.
The Paul-Gerhardt Monument
Inaugurated on 27 June 1907 for the commemoration of the 300th birthday of Paul Gerhardt (12 March 1607)
Created by the Berlin artist Friedrich Pfannschmidt and cast by the iron-foundry in Lauchhammer with four well-known hymn-verses by Paul Gerhardt on the pedestal; at the forefront the hymn "Befiehl du deine Wege" and on the rear the peace-hymn "Gottlob, nun ist erschollen".
The Paul-Gerhardt Painting
It was painted in Paul Gerhardt's lifetime or shortly after his death. It is the only original-picture of Paul Gerhardt and was handed over to the Lübben church-community by the wife of his son Paul Friedrich Gerhardt. Since then, it has its place in the Lübben church.
Since 1666 documents about the organ in the Lübben church have been existing.
The present-day sound-character of the organ by the organ master builder Ludwig Hartig from Züllichau has been kept up since 1846.
1906 the Potsdam organ building firm Alexander Schuke rebuilt the organ using substantial components of the previous organ.
With the organ restoration 1997, the company Christian Scheffler from Frankfurt/Oder succeeded in bringing the late-romantic organ-work to resound.
Please find detailed information on the Paul-Gerhardt church on the Homepage of the church.
In honour of important hymn poets, composers and lyric poets, who were all ecclesiastic personalities at Paul Gerhardt's time, a series of leaded windows with their motives were built in into the present-day Paul-Gerhardt church in the course of the restoration in 1930.
Georg Neumark (1621 – 1681)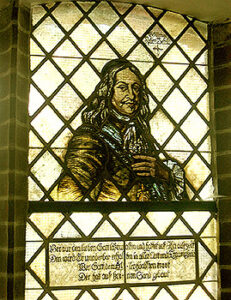 German poet, composer of church-songs, and musician (viola da gamba) Born: 16 March 1621 in Langensalza Died: 8 July 1681 in Weimar He was brought up in Mühlhausen (1623) and attended the high school in Schleusingen (1632) and Gotha (1636). On the way to his studies in Königsberg/Prussia, he was robbed near Gardelegen in 1640, he then lived from hand to mouth in Hamburg and Kiel (1641 pedagogicus) until he finally got to Königsberg in 1643 and there probably met the poet-circle around Heinrich Albert and Simon Dach. After his stay in Danzig (1648), Thorn (1649/50), Hamburg and other places, he was employed as a chancellery-registrar and librarian for the sovereigns in 1652, in fact he was a poet laureate there (in 1653 member of the Fruchtbringende Gesellschaft). His best-known hymn was (altogether 34 are supposed to be written by him):
»Wer nur den lieben Gott läßt walten« (EG 369)
Wer nur den lieben Gott lässt walten und hoffet auf ihn allezeit, den wird er wunderbar erhalten in aller Not und Traurigkeit. Wer Gott, dem Allerhöchsten, traut, der hat auf keinen Sand gebaut. The picture of Neumark is in the altar room next to the north window.
Johann Franck (1618 – 1677)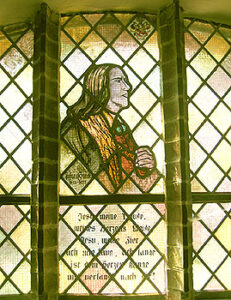 Hymn poet Born: 1 June 1618 in Guben (Nether Lausitz) Died: 18 Juni 1677 in Guben Student of jurisprudence in Königsberg, acquainted with Simon Dach. Lawyer in Guben, he became a town councillor in 1648, 1651 lord mayor, and in 1670 Landesältester of the Nether Lausitz. Franck is one of the most renowned hymn poets and was highly respected in his days. You can sense in his hymns the Christian faith of Paul Gerhardt and the innocent godly tone of the biblical language. In his lifetime already, 110 of his hymns were widely spread.
In the Evangelic song-book: EG 218
"Schmücke dich, o liebe Seele" EG 396 "Jesu, meine Freude"
Jesu, meine Freude, meines Herzens Weide, Jesu, meine Zier: ach, wie lang, ach lange ist dem Herzen bange und verlangt nach dir! Gottes Lamm, mein Bräutigam, außer dir soll mir auf Erden nichts sonst Liebers werden.
Joachim Neander (Neumann) (1650 – 1680)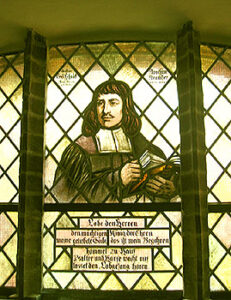 Born: 1650 in Bremen Died: 31 May 1680 in Bremen Neander's descent is from a priest family who changed their name from Neumann into Neander, coming into fashion at that time. He started studying for the ministry in 1666 and during his studies was awakened by priest Theodor Undereyck's sermons in the Martinikirche. In 1674 he was appointed Rector of the classical grammar school (Lateinschule) of the Reformed Community at Dresden where he occasionally also helped as a prayer and minister. In 1679 he took up the position of the matins prayer at the Martinikirche in Bremen. One valley of the stream Düssel near Mettman – where Neander often used to compose and hold sermons – was named after him "Neandertal" in the 19th century. His 57 "Bundes- und Dancklieder" (federal and thanks hymns) which were published shortly before he passed away, were pioneering for the pietistic song-books of the Reformed and Lutheran communities. Song EG 316/317 »Lobe den Herren, den mächtigen König der Ehren« ist bis heute eines der bekanntesten Kirchenlieder. Weitere Lieder im Ev. Gesangbuch: EG 166 (M) Tu mir auf die schöne Pforte EG 327 (T/M) Wunderbarer König EG 386 (M) Eins ist not EG 504 (T) Himmel, Erde, Luft und Meer Lobe den Herren, den mächtigen König der Ehren, meine geliebete Seele, das ist mein Begehren. Kommet zuhauf, Psalter und Harfe, wacht auf, lasset den Lobgesang hören!
Martin Rinckart (1586 – 1649)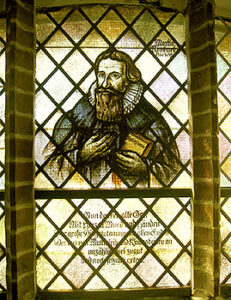 Clergyman, poet, and musician Born: 24 May 1586 in Eilenburg Died: 8 December 1949 in Eilenburg In 1601 he came to the Thomasschule at Leipzig and was accepted by the Thomas choir-master to join the Thomaner choir, Rinckart was nominated prefect later on. From 1602 he was matriculated at the university Leipzig. 1610 position as choir-master in St. Nicolai at Eisleben. 1611 he became deacon at St. Annen at Eisleben. Around end of 1613 he took over the parish at Erdeborn near Eisleben, 1615 poet laureate, 1616 academic degree Magister (master) and became archdeacon in Eilenburg in 1617 where he worked until his death, mainly in his catechism sermons and as minister – also through periods of great sorrows and misery in the Thirty Years War (plague, starvation, usury, war-contribution). In the Evangelic song-book 321 "Nun danket alle Gott" Nun danket alle Gott mit Herzen, Mund und Händen, der große Dinge tut an uns und allen Enden, der uns von Mutterleib und Kindesbeinen an unzählig viel zugut bis hierher hat getan.
Phillpp Nicolai (Rafflenböhl) (1556 – 1608)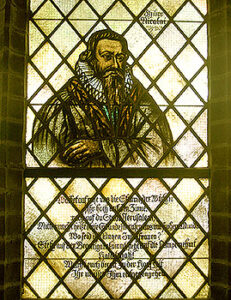 Born: 10 August 1556 in Mengeringshausen Died: 26 October 1608 in Hamburg His family name Nicolai instead of Rafflenboel is due to the fact that already his father took his father Nicolaus Rafflenboel's Christian name as his family name. He attended schools in Kassel, Hildesheim, Dortmund, Mühlhausen and Corbach. In 1575 he took up his studies in Erfurt which are Catholic, with exception of one theology professor who professed Augustana. He made a bare living, amongst other with writing his poems. The year 1576 meant for Nicolai to be confronted for the first with the death of close family members: His brother Jonas passed away at the age of 22, his mother soon thereafter. Studies in Wittenberg, after his studies – in autumn 1579 – Nicolai entered together with his brother Jeremias the monastery Volkhardinghausen in order to teach there and to devote himself to his own studies. In 1583 he was appointed as a priest in Herdecke. He tried to set up a Lutheran community but did not succeed. The reason was that Nicolai had to leave the town being a Protestant priest when in 1586 the Spanish troops from the Netherlands invaded the area. He escaped, first to Wettern, and then went to Cologne after his fellow worker in Herdecke had reinitiated the Catholic prayer services. The time of open disputes began: externally and literary. 1587 N. is summoned from Cologne to Waldeck. 1588 court clergyman in Wildungen and private tutor of the young Graf Wilhelm Ernst, son of Gräfin Margaretha. 1596 Priest in Unna, 1601 first priest in St. Katharinen Hamburg until his death. Hymns in the Evangelic Song book 70: "Wie schön leuchtet der Morgenstern" und 147 "Wachet auf, ruft uns die Stimme" »Wachet auf«, ruft uns die Stimme der Wächter sehr hoch auf der Zinne, »wach auf, du Stadt Jerusalem! Mitternacht heißt diese Stunde«; sie rufen uns mit hellem Munde: »Wo seid ihr klugen Jungfrauen? Wohlauf, der Bräut'gam kommt, steht auf, die Lampen nehmt! Halleluja! Macht euch bereit zu der Hochzeit, ihr müsset ihm entgegengehn!«
Paul Fleming (1609 – 1640)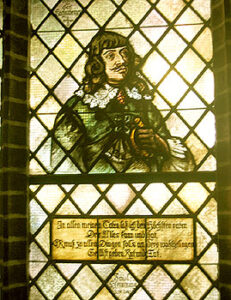 Renowned Baroque Lyric Poet Born: 5 October 1609 in Hartenstein a. d. Mulde/Vogtland Died: 2 April 1640 in Hamburg He attended the classical grammar school (Lateinschule) in Mittweida and the Thomasschule in Leipzig, then started studying medicine there in 1628. He devoted his attention to poetry and became "imperial poet laureate" in 1631. Fleming went to Holstein in 1633 and applied for the position of a page and lord high steward for the legation that Herzog Friedrich II von Holstein-Gottorp intended to send to Persia in order to direct the East Indian silk trade by land via Russia to Holstein. His application was successful. Fleming started the journey together with the legation to Russia in November 1633, they set off on the journey to Persia in March 1635. In summer 1639 he returned to Holstein from the journey which had been full of dangers and fatigues. Then he continued his studies in Leiden and obtained the doctor's degree in January 1640. He wrote religious and worldly songs in German and Latin language, powerful, original lyric. His best-known hymn is the "hymn of confidence" which he wrote at the beginning of the mentioned legation journey (EG 368) In allen meinen Taten laß ich den Höchsten raten, der alles kann und hat; er muß zu allen Dingen, soll's anders wohl gelingen, mir selber geben Rat und Tat.